Fundraising for Hamilton Elementary
What is the Husky Paw Fund?
The Hamilton Parent Teacher Organization (PTO) is excited to launch the new 2022-23 Husky Paw Fund fundraising campaign. The Husky Paw Fund will enable the PTO to support Hamilton students and teachers in K through 5th grade to Explore! Excite! Expand! throughout the school year!
EXPLORE!
Hamilton students have their learning enhanced with explorations inside and outside the
classroom! Hamilton's continuous garden program and outdoor classroom provide
learning opportunities outside the school walls. Annual PTO-sponsored grants support
teachers and staff in their endeavors to integrate exciting resources into the classrooms
EXCITE!
Hamilton recognizes student achievement and celebrates our school community throughout the year. The PTO engages students, families, and staff with special events throughout the year. These include annual favorites like Haunted Hamilton, the Family Dance, school assemblies, and Fifth Grade Graduation. Contributions to this fund will ensure that all of these events can remain free of admission costs
EXPAND!
Hamilton PTO funds aim to promote and deepen a love of learning for each and every student. Funding provides opportunities for new programs to happen or continue. These include initiatives like Science Fair, Reading Week, Rooster Games, and more!
Our goal: Raise $8,000 from families, friends, and neighbors by 2023!
How does the PTO plan to spend the money raised this year?
The PTO's priorities for the 2022-23 school year include:
$250 "PTO Grants" for each classroom

Outdoor Classroom and Garden

Parent Outreach Nights

Family engagement events (Back to School Carnival, Family Dance, and Haunted Hamilton)
Reading Week, Summer Reading Program, and Rooster Games

STEAM Day and Assemblies

Teacher and staff appreciation

And much more!
Suggested donation levels:
​$10-$50 (Small Paw)
$50-$200 (Medium Paw)
$200-$400 (Large Paw)
$400+ (Grand Paw)
​Any amount helps - please contribute what you can!
​Hamilton Parents & Caregivers: Please consider donating!
Donate as much as you're comfortable with. Contact the PTO with any questions hamiltonhuskiespto@gmail.com.
How do I contribute?
Choose one of the options below to make your contribution. The PTO accepts cash, checks, and credit cards.
Online - PayPal:
You can make donations via PayPal's Giving Fund using your PayPal account or a credit card (preferred). PAYPAL GIVING FUND
In Person:
One of our PTO Treasurer's is happy to help make an in-person transaction at the school
(Cash).
Employer Matching:
Many employers and workplaces offer to fully or partially match donations made by employees to charitable causes.
Please check with your employer to see if they participate!
Mail:
Mail or bring a check made out to "Hamilton PTO" to:
​Hamilton PTO
25 Salisbury Ave,
North Kingstown, RI 02852
Remember, donations are tax deductible!
The Hamilton PTO is a 501c3 charitable organization and all donations are tax deductible. A receipt will automatically be provided for donations made through PayPal. Please email the PTO to request a receipt for check or cash donations.
In addition to direct donations, there are 3 easy ways to earn money for our students and the programs we provide:
The best part is that these programs are at no extra cost to you!
Earn money for Hamilton Elementary while shopping or dining!
ShopwithScrip.com is a website where you can purchase hundreds of gift cards for retailers and restaurants. A percentage of each sale goes back to the PTO and to our school! It is important to note that each retailer gives a different percentage back to the school. For example, Amazon may only give 2% of each sale to the school whereas some stores/restaurants give upwards of 10% back (e.g., Starbucks, TJX/Marshalls, Home Depot).
You can enroll with shopwithscrip.com with enrollment code: 849FCC2L18353
We recommend purchasing digital e-cards rather than hard copy cards and purchasing with the credit/debit card option or linking a bank account. Digital e-gift cards are delivered to your email (or the gift recipient you specify) immediately, or, if preferred, you could schedule delivery for a later date. This is a great way to earn money for our school without any added expense to you! Anyone can use this, so please feel free to share with grandparents, family, or friends of Hamilton Huskies. Although gift cards are great to give to others, remember you can use this if you're making a purchase for yourself, too, and it will automatically give back money to our school!
Your purchases on Amazon.com can earn money for our school! Did you know that if you have an Amazon account you can support our school every time you shop? Simply log in to your Amazon account through smile.amazon.com and select Hamilton Elementary School PTO as your charity and Amazon will donate .5% of your eligible purchases.
Note: There are many "Hamilton PTO's" so please click on the right address.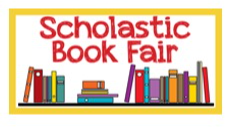 Support our school by participating in the Book Fair!
A Book Fair is one of the easiest ways to offset some of the budget challenges our school is facing today. Hamilton uses the Scholastic Dollars profit to shop from thousands of educational items and resources for our teachers' classrooms and to benefit the library, as well as cash proceeds that help fund all our programs. Of course, our students benefit, as well, by expanding their minds and vocabulary