Fundraising for Hamilton Elementary
In addition to direct donations, there are 3 easy ways to earn money for our students and the programs we provide:
The best part is that these programs are at no extra cost to you!
Earn money for Hamilton Elementary while shopping or dining!
ShopwithScrip.com is a website where you can purchase hundreds of gift cards for retailers and restaurants. A percentage of each sale goes back to the PTO and to our school! It is important to note that each retailer gives a different percentage back to the school. For example, Amazon may only give 2% of each sale to the school whereas some stores/restaurants give upwards of 10% back (e.g., Starbucks, TJX/Marshalls, Home Depot).
You can enroll with shopwithscrip.com with enrollment code: 849FCC2L18353
We recommend purchasing digital e-cards rather than hard copy cards and purchasing with the credit/debit card option or linking a bank account. Digital e-gift cards are delivered to your email (or the gift recipient you specify) immediately, or, if preferred, you could schedule delivery for a later date. This is a great way to earn money for our school without any added expense to you! Anyone can use this, so please feel free to share with grandparents, family, or friends of Hamilton Huskies. Although gift cards are great to give to others, remember you can use this if you're making a purchase for yourself, too, and it will automatically give back money to our school!
Your purchases on Amazon.com can earn money for our school! Did you know that if you have an Amazon account you can support our school every time you shop? Simply log in to your Amazon account through smile.amazon.com and select Hamilton Elementary School PTO as your charity and Amazon will donate .5% of your eligible purchases.
Note: There are many "Hamilton PTO's" so please click on the right address.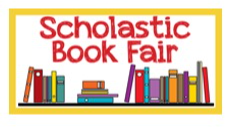 Support our school by participating in the Book Fair!
A Book Fair is one of the easiest ways to offset some of the budget challenges our school is facing today. Hamilton uses the Scholastic Dollars profit to shop from thousands of educational items and resources for our teachers' classrooms and to benefit the library, as well as cash proceeds that help fund all our programs. Of course, our students benefit, as well, by expanding their minds and vocabulary!